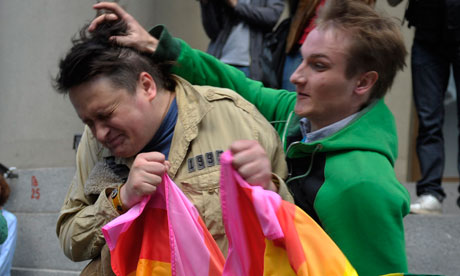 A Russian Orthodox church activist attacks a gay rights protester during an unauthorised rally in central Moscow. Photograph: Anton Tushin/AFP/Getty Images
Moscow police detain almost all 30 protesters and far fewer of 50 church supporters involved in breaking up two rallies
(guardian.co.uk)
Dozens of people were detained in Moscow on Sunday after Russian Orthodox church activists broke up two gay rights protests, throwing water and shouting prayers at demonstrators.
Some Orthodox activists attacked the protesters, throwing punches, grabbing their rainbow flags and trampling on them in front of television cameras.
Skirmishes occurred at the protests outside the city hall and parliament. Neither rally was sanctioned by Moscow authorities.
Almost all of the 30 gay rights protesters were detained, and many fewer of 50 or so Orthodox activists involved.
Nikolai Alexeyev, the leader of the gay rights protests, said he was detained for talking to journalists. "I am arrested at Moscow Pride City Hall protest," he tweeted while in police custody. "I have no words."
Police told the state-run news agency Itar-Tass that about 40 people had been detained at the protests.
"All of our rights are being trampled on here in Russia," said Igor Yasin, another demonstrator. "Your rights aren't safe and you're not physically safe."
Earlier this year Russian MPs introduced a bill to that would impose fines for "spreading gay propaganda" among minors.
While the proposed law ostensibly targets actions such as the distribution of gay pornography to children, critics say it could be used to ban gay rights demonstrations.
Such a law is in force in President Vladimir Putin's home city St Petersburg where the US singer Madonna has said she will use her Russia tour this summer to speak out against the lawwhat she called a "ridiculous atrocity".
Homosexuality was decriminalised in Russia in 1993, but anti-gay prejudice runs deep and the gay community remains largely underground.
The Russian Orthodox church, whose influence has grown since the collapse of the Soviet Union in 1991, speaks out against homosexuality. Gay rights rallies have often ended in clashes with militant anti-gay activists and arrests.